Published by Jorge Flores on Sep 4th 2019
Wagner powder coating units are some of the best in the industry at earning a quality finish. In this article we will go over everything you need to know about the Wagner powder ecosystem; powder gun models, supply choices, application tips, and maintenance best practices.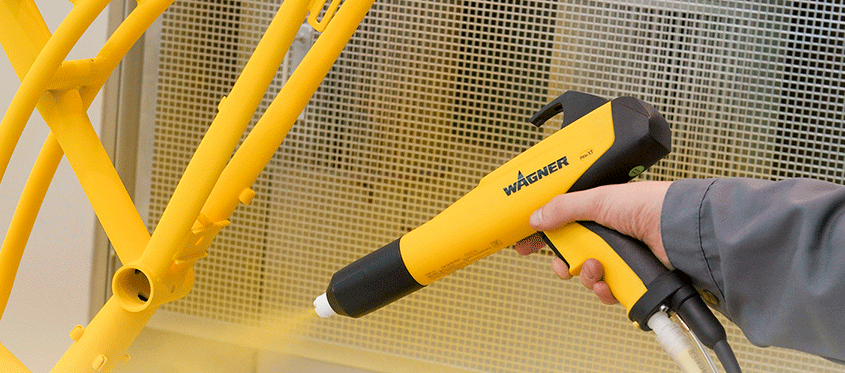 How Does Powder Coating Work?
Powder coating is a dry finishing process that uses a spray gun to apply electrically charged powder particles to a grounded part. After the part is coated, it is placed in an oven for a high temperature curing process. The curing process induces a chemical reaction that creates an incredibly strong coating that is extremely resistant to breakdown.
Powder coating is much more durable than liquid coating against abrasion, chemicals, UV, and moisture. It is used heavily across many different industries & products.
Which Wagner Powder Coating Guns Are Available?
The newest Wagner powder coating gun is the Wagner PEM-X1. It represents the latest in technology and is one of the most highly regarded guns in the powder coating industry. It has a very ergonomic design and weighs in at just over 1 lb which allows for extended usage without fatigue. There are 2 types of nozzles available for the PEM-X1, wide spray & round spray. The wide spray is the most common option used throughout the industry.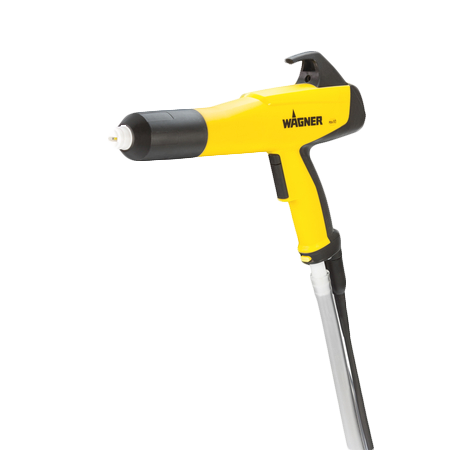 Wagner PEM-X1 Spray Gun: Purchase Here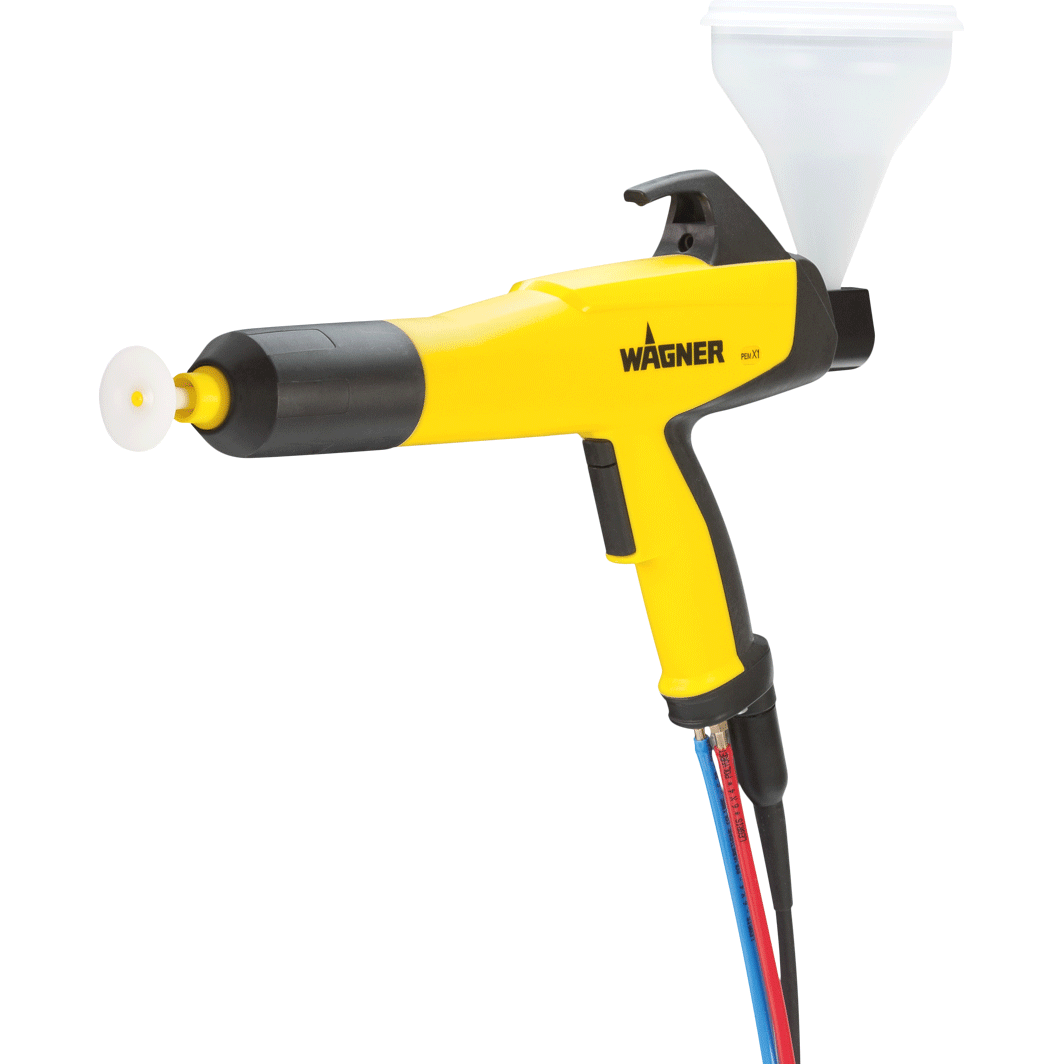 Wagner PEM-X1 Cup Gun for smaller applications, also fitted with round spray nozzle: Purchase Here
Older Model Wagner Powder Guns That Have Been Discontinued
There have been several iterations of the manual Wagner powder coating gun throughout the years. Several are still in use and spare parts are, for the most part, still available. Here is a list of obsoleted Wagner powder coating guns.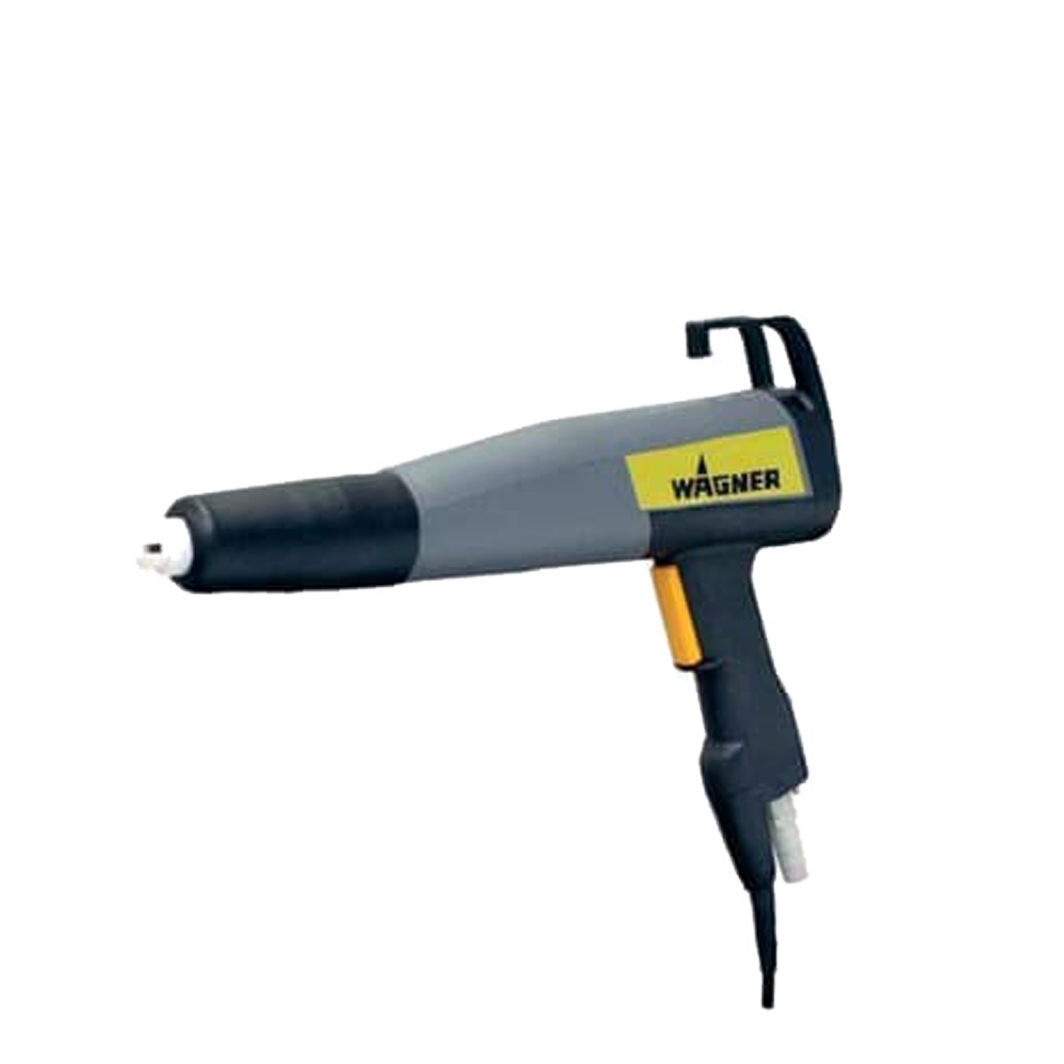 Older model Wagner C4 Powder Coating Gun: Still very heavily used in the industry
Tech Specs of the Wagner PEM-X1 Powder Coating Gun
Very light weight and robust design
Working without tiring
Homogeneous and stable powder cloud
Even layer thickness distribution
Optimally balanced
Perfect grip in every situation due to a gun that is balanced down to the last gram
Quick-release coupling for the powder hose makes the paint change easier and quicker
Operating Voltage: 100.0 kV
Operating Temperature: 41.0 – 113.0 °F (5 – 45 °C)
Air Inlet Pressure: 0.3 Mpa, 3.0 bar, 44 PSI
Weight: 1.1 lb (0.5 kg)
Important System Parts & Common Wear Items
A system is only as good as the sum of its parts and that is especially true with powder coating. There are a few common wear items to look out for. Swapping these parts out regularly will keep your processes running in tip top shape.
Venturi Nozzle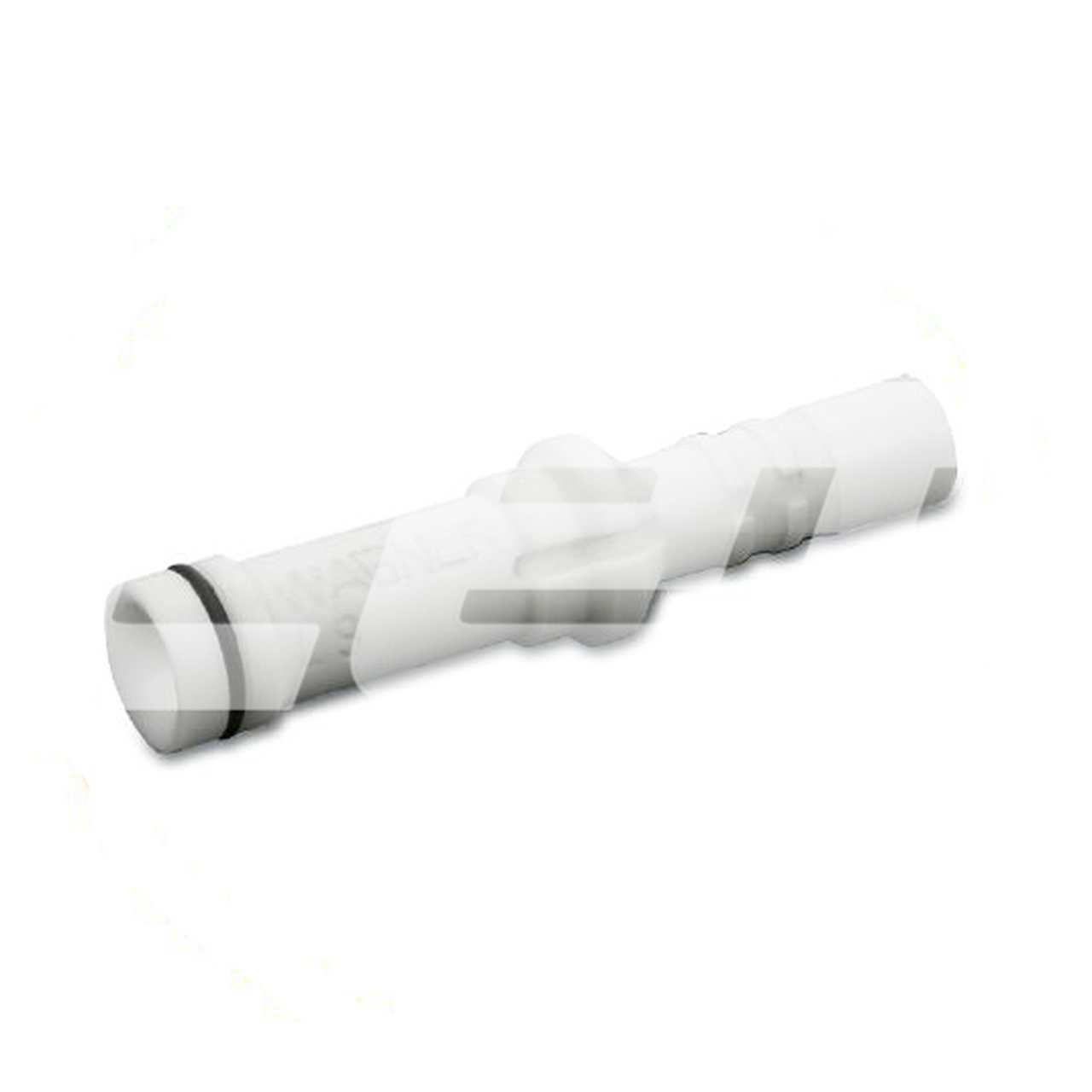 This is the small nozzle that goes into the powder pump. The powder pump is what feeds powder to the spray gun (either from a hopper or a powder box). This is a very common wear item that many people overlook when purchasing replacement parts for their system. There are 2 versions of this nozzle: The Standard Version (241225) & The Hi-Coat Version (241229). You can purchase both of them here:
Union Nut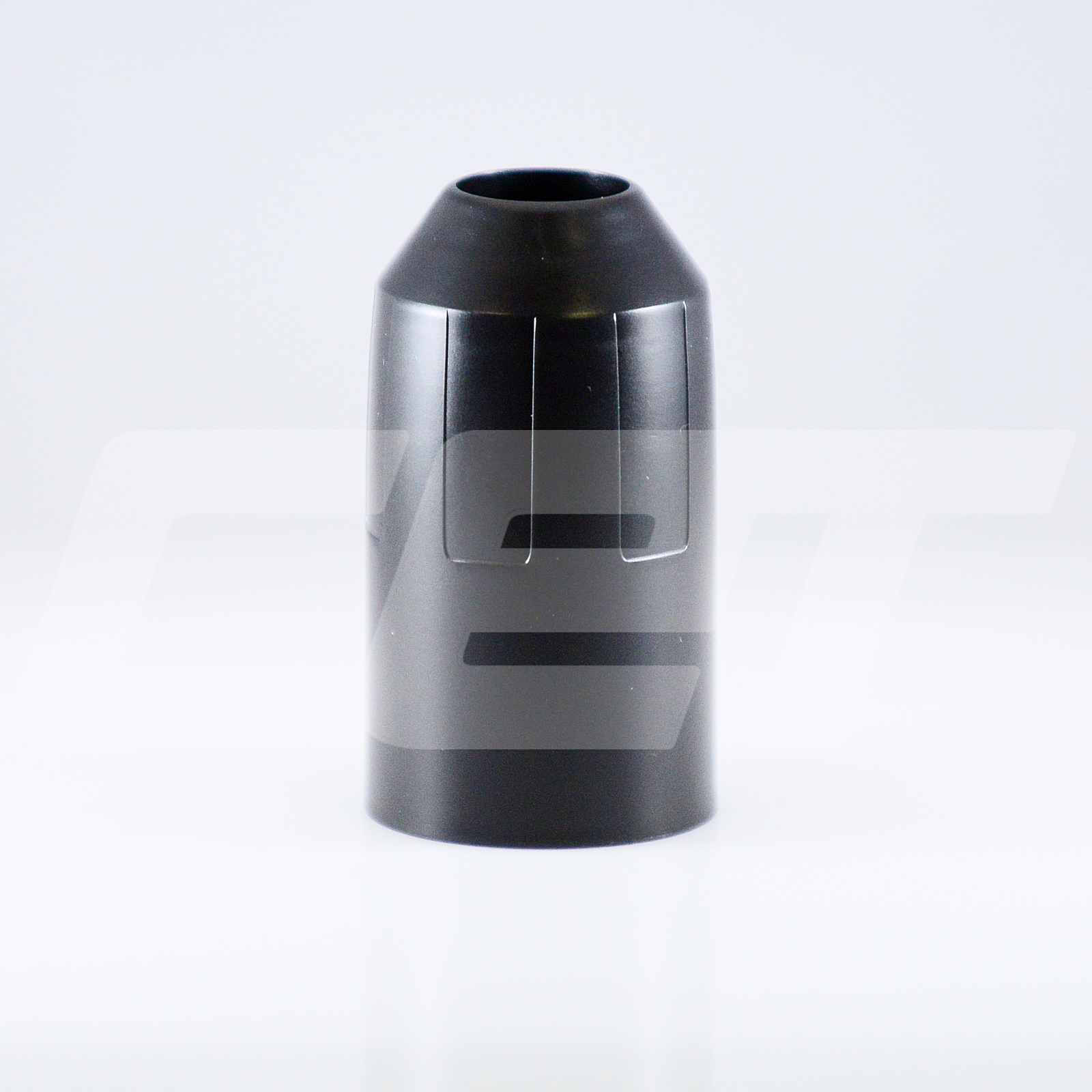 This is the part that seems to take the most beating in a heavy duty, industrial environment. It is the nut on the very front of the powder gun and protects the nozzle and atomization parts of the gun itself.
Powder Wedges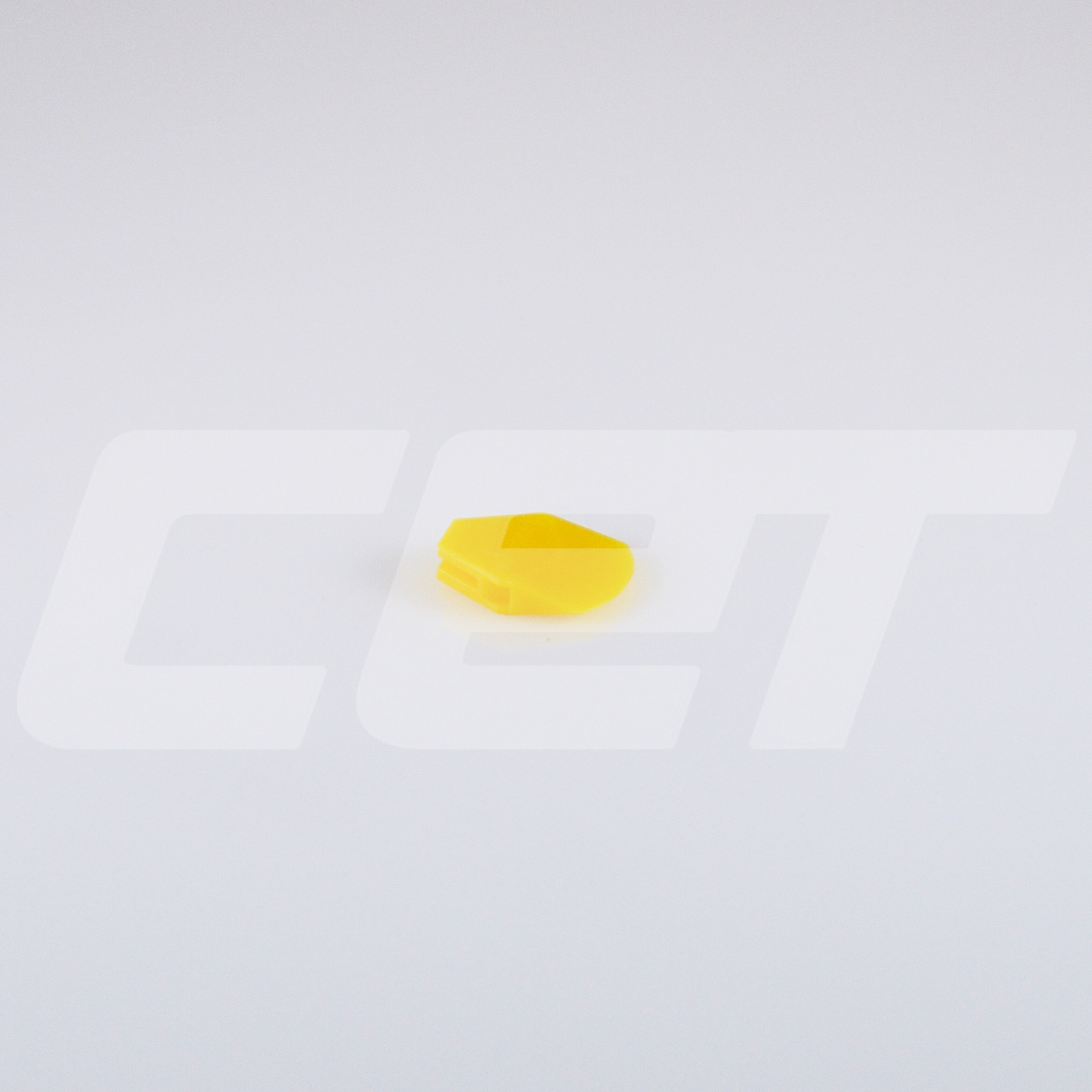 Powder wedges are the most common wear part for all powder coating guns. They play a crucial part in maintaining spray pattern characteristics and ensuring optimal performance of your powder gun.
Hose Take-Up Assembly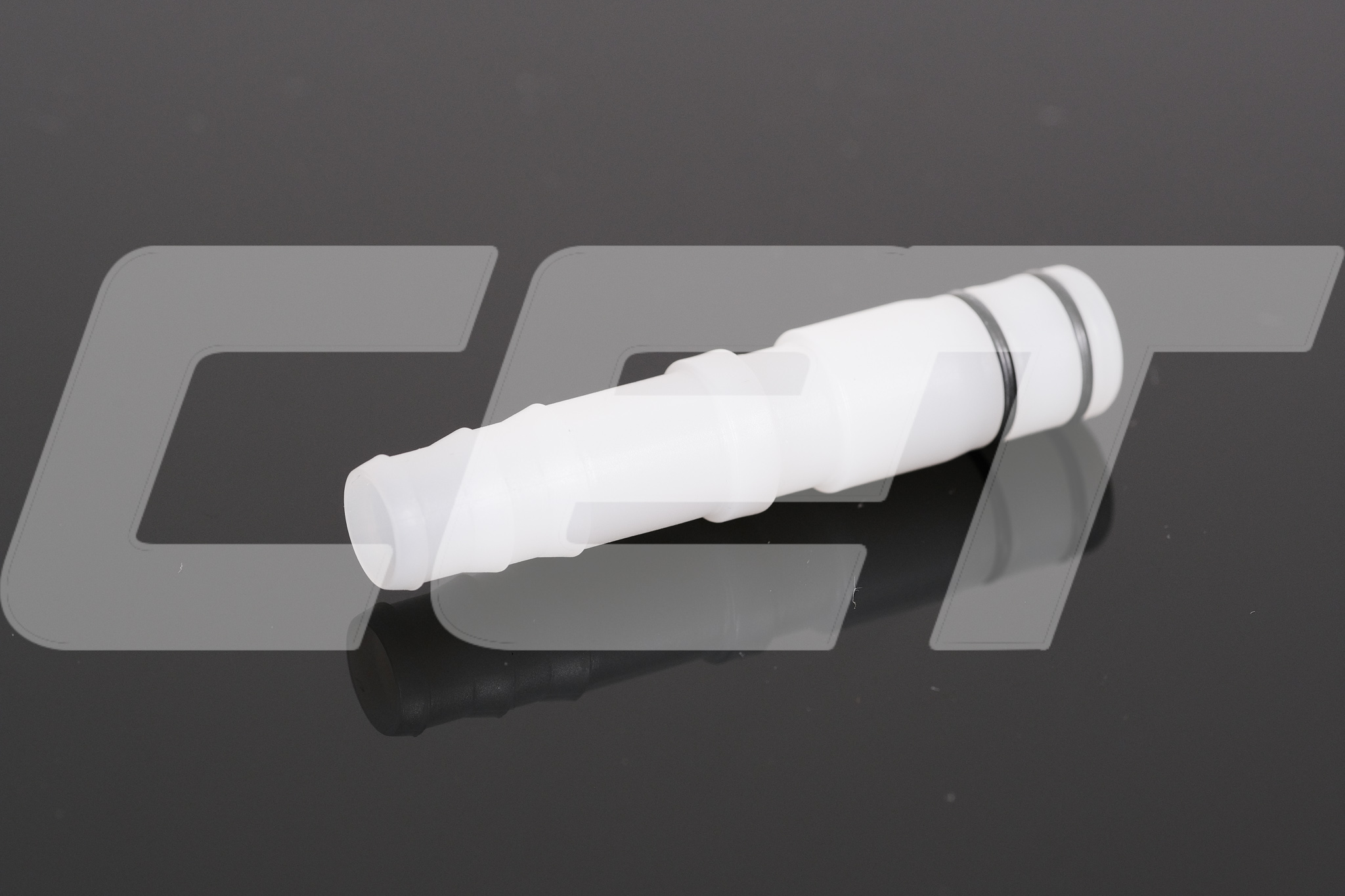 The hose take-up assembly connects the gun to the powder hose. It is another high-wear item that degrades over time with the constant friction of powder flow. There are 2 versions depending on what ID of powder hose that you have.
Grounded Powder Hose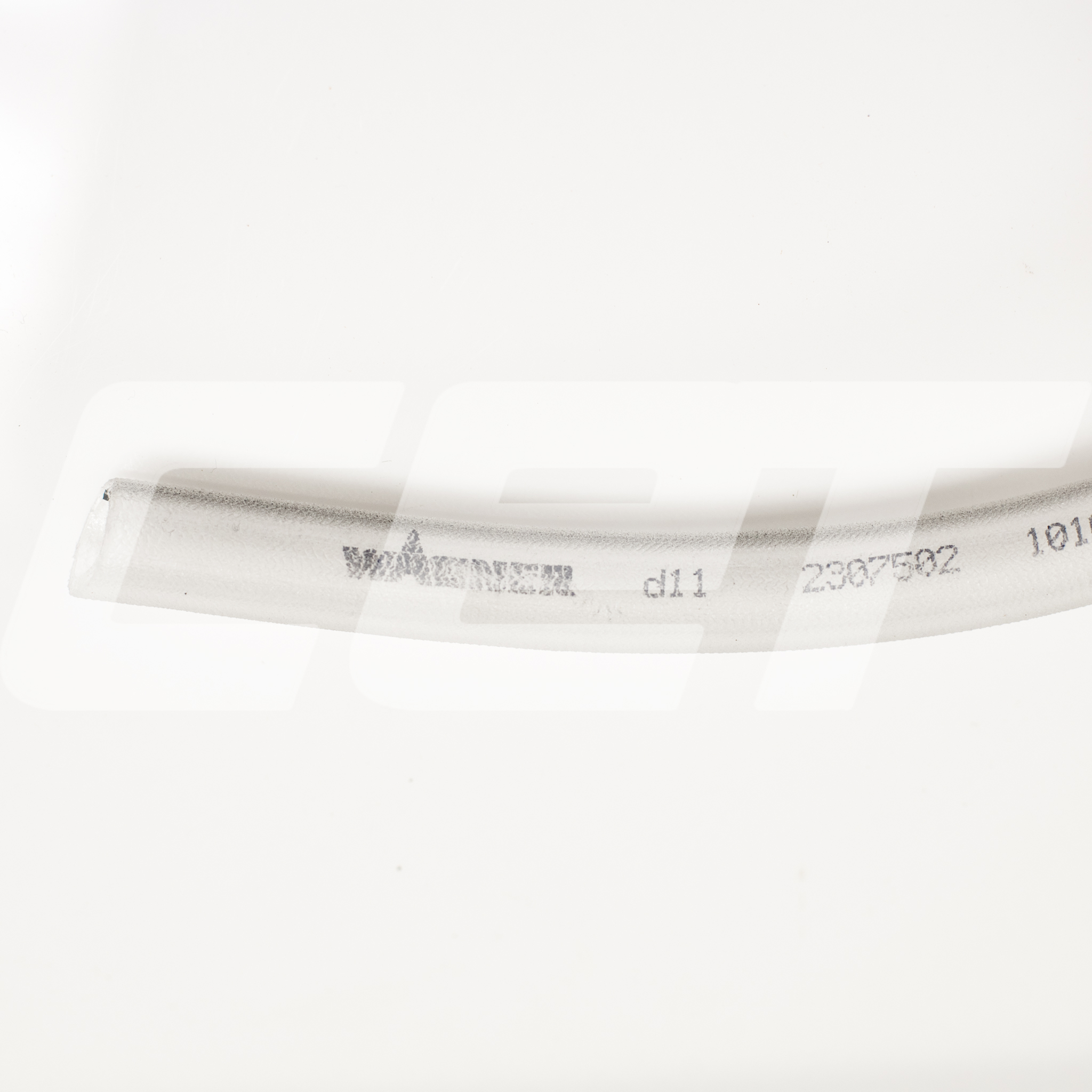 It is always a good idea to have spare grounded powder hosing on the shelf. The hosing typically lays on the floor which exposes it to abuse and damage.
Powder System Types
There are several different system types depending on your particular needs and how much you are spraying. For all systems however, you need 3 main components: the powder gun itself, the controller, & the material supply. The material supply is the factor that differentiates the system types. Here is a breakdown of all of the different types of powder systems. Wagner Powder Systems go by the moniker "Wagner SPRINT".
Box Feed Unit (Most Common)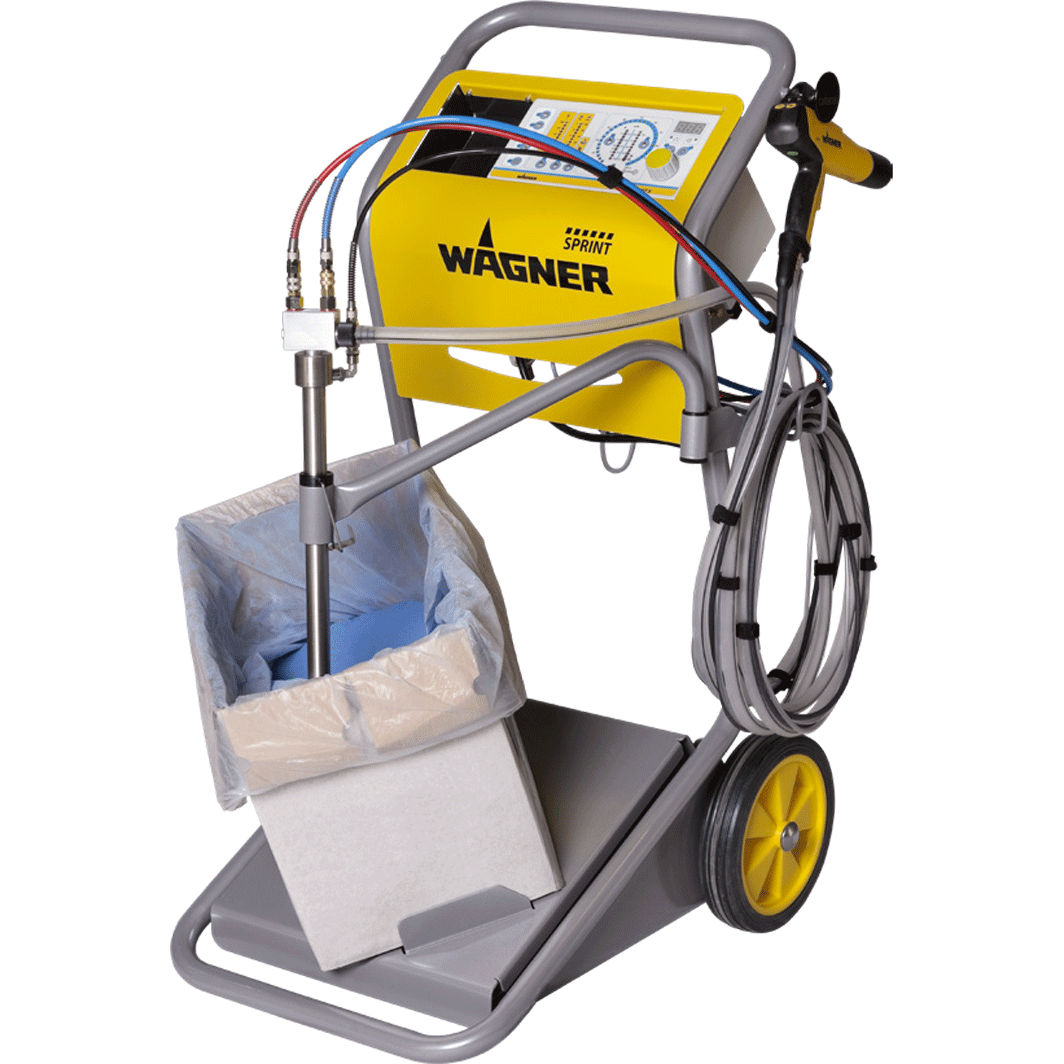 Wagner SPRINT XE Powder Coating System (Box Feed): Purchase Here
The Wagner SPRINT XE Box Feed Unit is the most common type of powder coating system due to its speed & ease of use. You feed the powder to the system using the box that the powder comes in (there are even ridges designed to hold the box in place) which eliminates the process of loading powder into hoppers. It features a fluidizing bed in the base that vibrates when in use, thus fluidizing the powder as it is pumped from the box. This is a great unit for all types of applications.
Hopper Feed Unit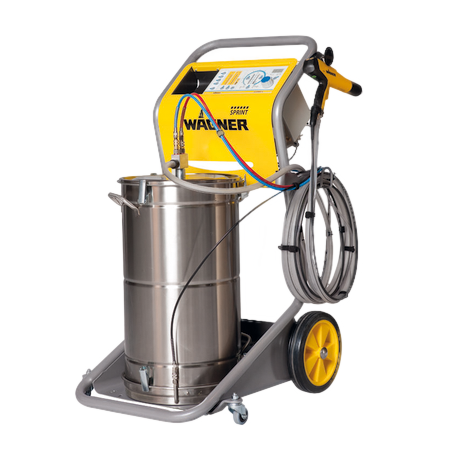 Wagner SPRINT XE Powder Coating System (Hopper Feed): Purchase Here
The Wagner SPRINT XE Hopper Feed unit is the next most common type of powder coating system. The powder gets fluidized in the hopper itself as opposed to using the vibrating base system in the box-feed unit. The standard system comes with a 60 liter hopper which is preferable for larger scale operations. There is also a 25 liter and a 3 liter hopper available which allows the system to scale to your particular needs. You can view more information on the different hoppers below.
264268 | 60 Liter Hopper: Purchase Here
264224 | 25 Liter Hopper: Purchase Here
HOP-0503 | 3 Liter Hopper: Purchase Here
Cup Gun Unit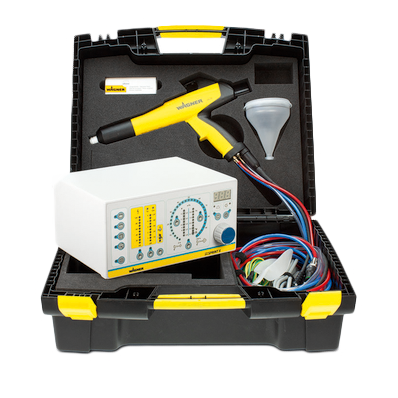 Wagner Powder Coating Cup Gun Case System: Purchase Here
The Wagner Powder Cup Gun System is a perfect solution for smaller parts and applications. Instead of using a hopper or a box, the powder is loaded into a small cup that sits on the powder gun itself. Akin to a gravity feed spray gun, this unit shines with smaller batches or multiple colors. It gives you unmatched flexibility for these types of applications. The gravity cups are disposable units that should be replaced upon wear.
2324139 | Powder Gravity Cup (x1): Purchase Here
2324140 | Powder Gravity Cup (x5): Purchase Here
Recommended Wagner Powder Coating Accessories
Power Cable Extensions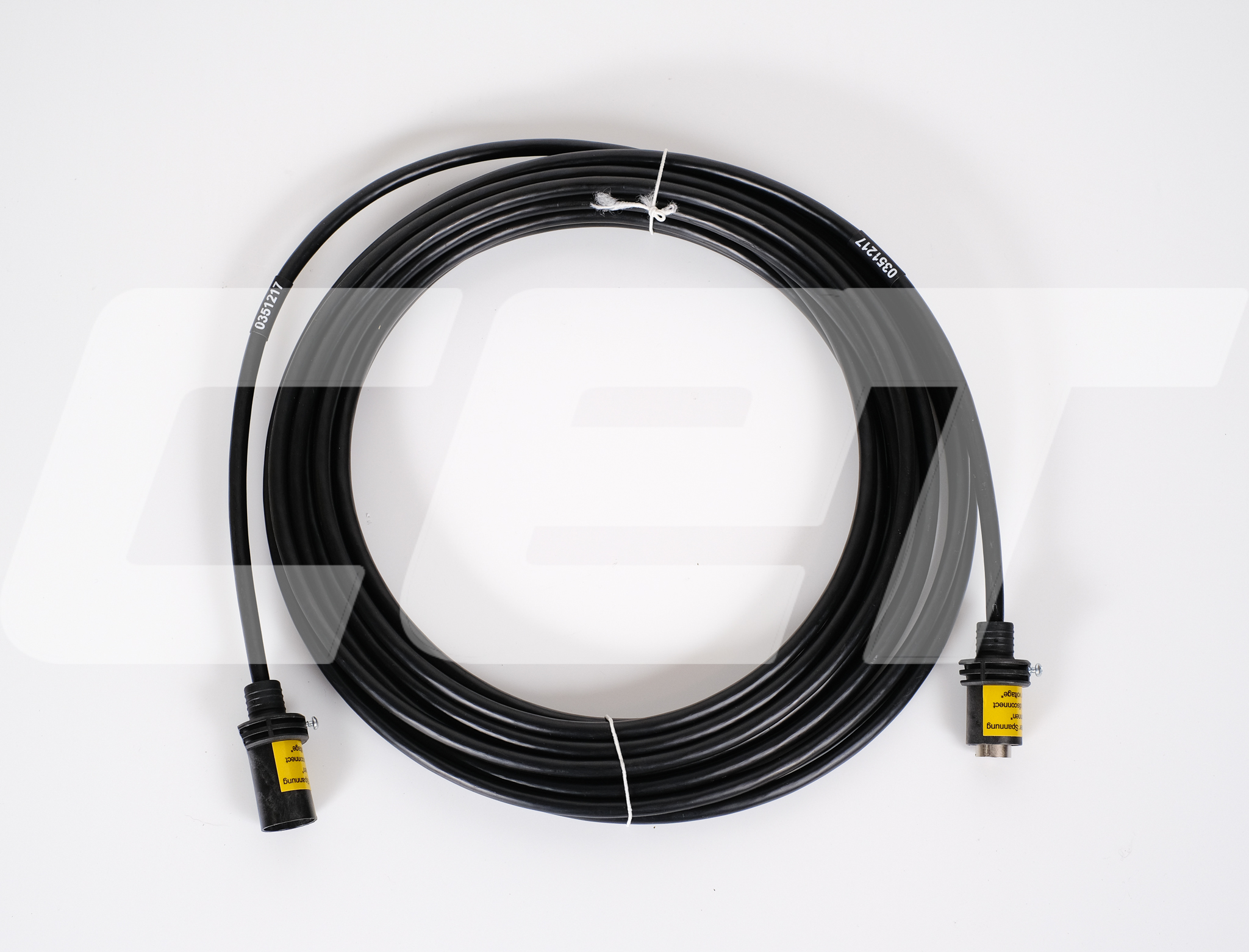 Power cable extensions allow you to increase the reach of your powder unit to accommodate for larger projects or bigger booths. They come in various lengths.
351216 | Power Cable Extension (5 meters): Purchase Here
351217 | Power Cable Extension (10 meters): Purchase Here
351215 | Power Cable Extension (20 meters): Purchase Here
Nozzle Extensions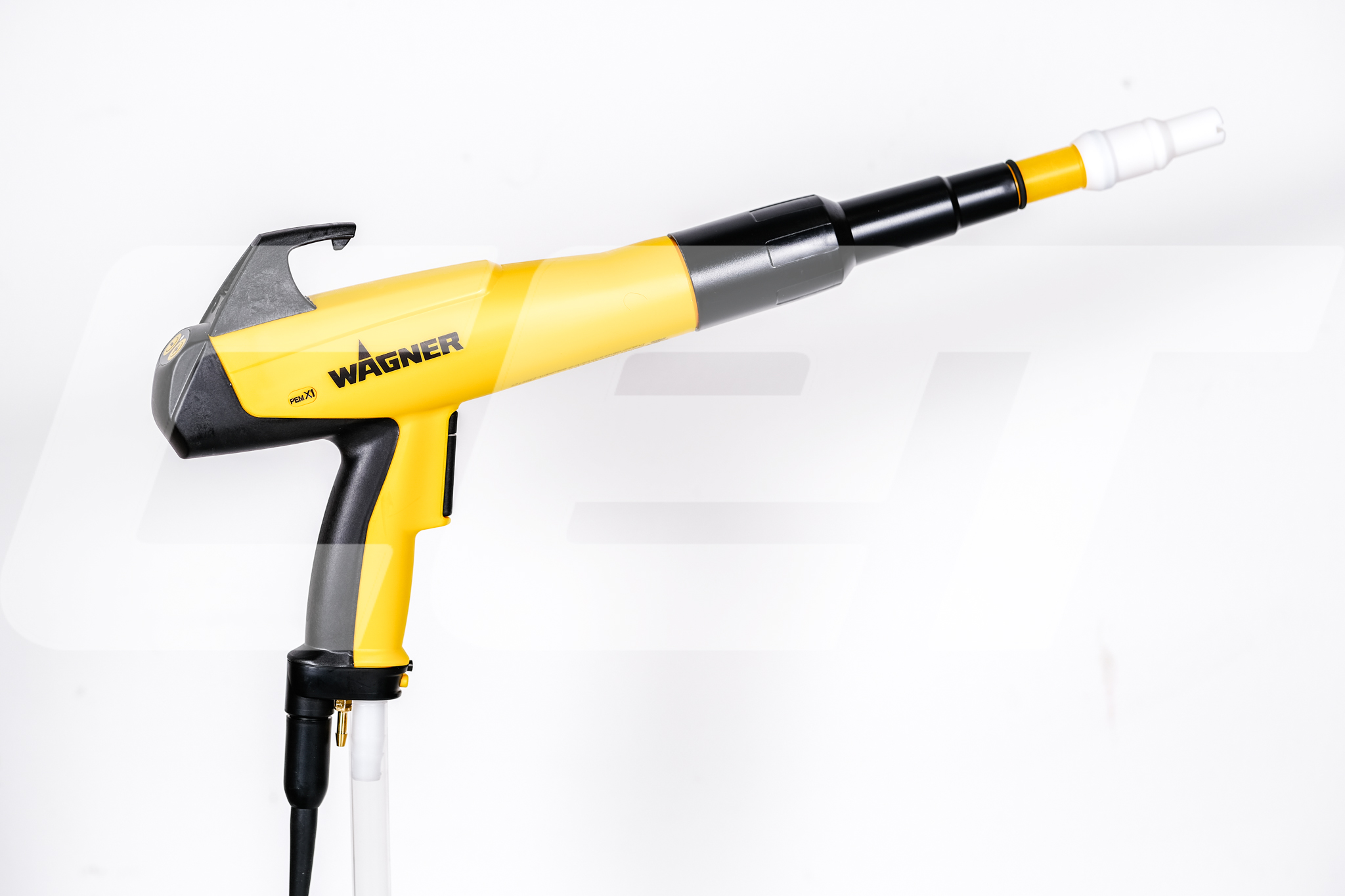 Powder gun nozzle extensions allow for an extended reach into tough-to-coat areas. They come in various sizes for different jobs.
2323366 | Powder Gun Nozzle Extension (150mm): Purchase Here
2323356 | Powder Gun Nozzle Extension (300mm): Purchase Here
2330497 | Powder Gun Nozzle Extension (750mm): Purchase Here
Corona Star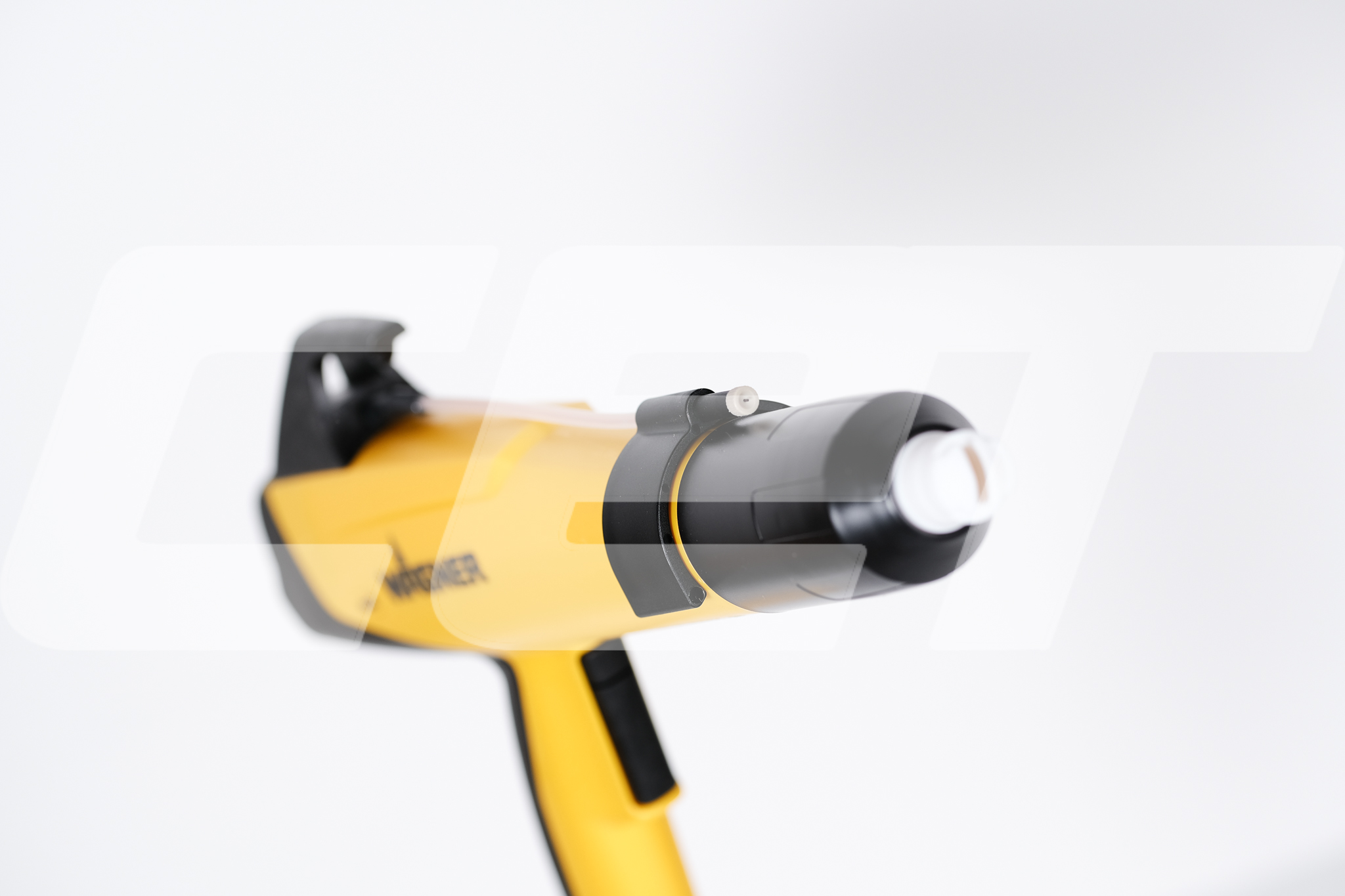 The Corona Star is an attachment for Wagner powder guns that helps to achieve an optimum surface quality. If you are getting an orange peel effect on your parts, this attachment can help eliminate that.
2322868 | Corona Star Attachment: Purchase Here
Additional Resources on Wagner Powder Coating & Spare Parts
CET is your leading source for all Wagner powder coating information & spare parts. Feel free to contact us anytime with any questions you may have.
Phone: 586-210-0555
Email: sales@cetinc.com